Practicable Advice You Might Enjoy
Spoiler alert .... it's about communication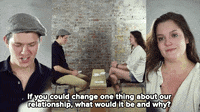 Posted : 02/04/2022 2:30 pm
Very down to earth and grounded in reason.
Posted : 03/04/2022 2:32 pm
Very down to earth and grounded in reason.
I agree.  Super relevant although not wank-worthy.
Posted : 03/04/2022 4:24 pm
Very interesting video.  I was not familiar with Kathy Slaughter so I Googled her.  She graduated from a fine university, U of M.  LOL  She made some very good points.  Though she initially aimed at couples interested in open relationships, her advice actually applies to all loving relationships.  Her emphasis on communicating was important and something that has been emphasized here often.  
She made a very strong statement at the end that is important for couples that may not want an open or cuckold relationship.  Each member needs to be an individual as well as part of a couple.  By each partner spending significant time doing things that excite them or at least bring them a high level of individual satisfaction, their relationship tends to retain that "New Relationship Energy."  
In my practice I encouraged couples to have time that they could share with other friends and activities but I never thought of it as more than retaining there individual identities.  I learned something today.  This makes so much sense and is so obvious when I stop and think about it.  I was helping couples to bring an energy to their relationships without realizing I was doing that.  I thought I was just keeping them from smothering each other.  Thank you Kathy Slaughter.  
Advertisement

Posted : 08/04/2022 1:53 am
I read State of Affairs by Esther Perel (quoted during the video). It was eye opening since my life experience is very conservative Christian. It truly is about communication and finding what works.
Discovering you can remain separate people in a relationship is also powerful. It can be confusing to find something to do on your own, but the relationship is stronger when individual interests can be pursued. 
Posted : 12/04/2022 8:27 pm
That makes since! If you don't have your own interests you become codependent and bored with each other. Been there. Done that. In a different relationship. He just said yes to whatever I did and wanted to tag along. My friends became his. His friends became mine. We never had anything to talk about except work and who wants to talk about your work?
Posted : 13/04/2022 9:17 pm