we like to do reverse pegging that emma wrote about some months ago. https://www.evolvingyourman.com/2021/06/14/what-the-heck-are-reverse-pegging-and-fauxing/
We went to a sex toy site and picked out a toy that looked comfortable to me. Slim and smooth because I like the feeling of being filled but friction can sometimes make it painful. https://www.lovehoney.com/sex-toys/dildos/non-realistic-dildos/p/doc-johnson-the-slim-silicone-dildo-5.5-inch/a24132g35810.html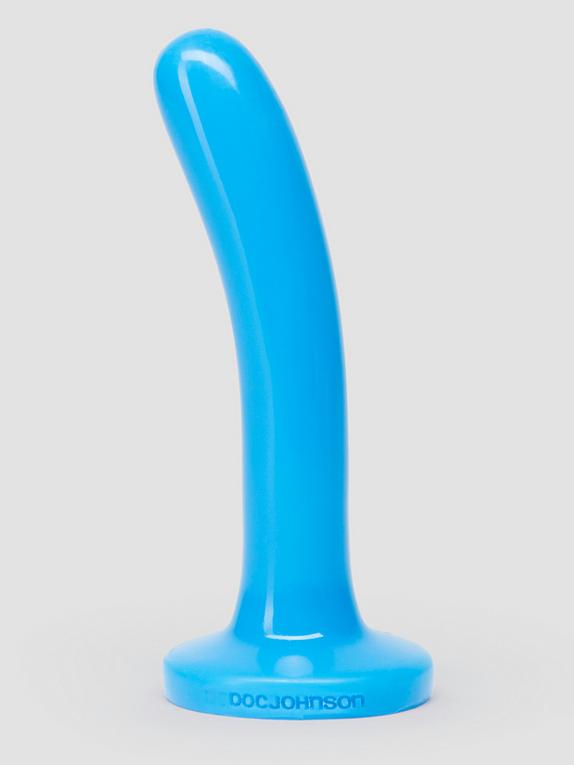 I also got a little four inch butt plug for hubby to pop in his bum a few hours before we play to help him relax and loosen himself up. It stays in pretty nicely so I might make him wear it out sometime. https://www.lovehoney.com/sex-toys/butt-plugs/non-vibrating-butt-plugs/p/si-novelties-small-penis-butt-plug-4-inch/a8581g8581.html  
Posted : 10/12/2021 11:18 am
Love this!  I'm going to get one of those 4-inch plugs because I think it will do a better job of preparing for her strap than the smallish glass plug that I have.
Please though ... how do you get those pictures to display in your post without having to make them an attachment?  
Advertisement

Posted : 10/12/2021 12:22 pm
I would love to know that technical trick!
Also, I am trying to prepare for my first pegging from Goddess. Hoping it will be soon. I am having some difficulties keeping it in place. I have a small rubber plug, but was thinking of getting a metal jewel. I thought the narrow tip, flared middle, and super tappered back end would be easily inserted and held in place. Any thoughts?
Posted : 22/04/2022 8:19 am
In general, I prefer to use a 3-prong speculum to insert a larger plug large enough that it will stay in as my body has a tendency to try to push it out.
HTH
Posted : 22/04/2022 11:22 am
I'm not sure what you mean about the 3 prong speculum. My body does want to push the plug out. I was thinking that the vary narrow base of the jewel would allow my sphincter to close around the plug better and hold it in. I'm not sure that putting something larger in would help.
Posted : 22/04/2022 11:40 am
Something like this to open you up enough to take a larger plug.
https://www.extremerestraints.com/3-prong-anal-speculum.html
Maybe I need to develop my sphincter muscles more, but clenching down isn't enough for smaller plugs.
Though the weight of the plug does play a part. I tend to prefer heavy, metal or glass plugs. Silicone/rubber plugs are much different.
Posted : 22/04/2022 2:45 pm
Okay, I think I got it now. Hmmm... i'm going to have to try a few things. I'll figure this out. It's not rocket science. Lol.
Posted : 22/04/2022 3:03 pm